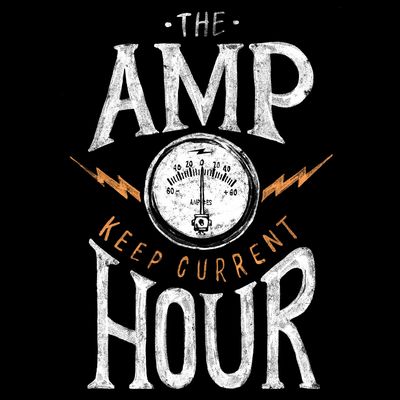 Chris Gammell and Dave Jones' voices span the chasm of thousands of miles each and every week to speak to each other and industry experts about where the field of electronics is moving. Whether it be a late breaking story about a large semiconductor manufacturer, a new piece of must-have test equipment or just talking through recent issues with their circuit designs, Chris and Dave try to make electronics more accessible for the listeners. Most importantly, they try and make the field of electronics more fun. Guests range from advanced hobbyists working on exciting new projects up through C-level executives at a variety of relevant and innovative companies. Tune in to learn more about electronics and then join the conversation! Visit The Amp Hour website for our back catalog of 150+ episodes.
---
Welcome, Andreas Spiess!
You may know Andreas from his YouTube channel about connected devices and electronics, as "the guy with the Swiss accent"
The content on the channel is for intermediate people
A lot of his content is piecing things together
His newest video shows how to use tire pressure monitoring systems for home brewing
The advantage of age is having seen a lot and having "lots of hooks in the brain"
Goethe wrote "I didn't have enough time to make it this short"
Andreas got started in the 70s, working on a forbidden fm transmitter
CB radio wasn't allowed in Switzerland at the time.
He was in military service, where he learned Morse code.
He later worked in Cameroon and Damascus for the International Committee of the Red Cross.
After a degree in EE, he realized he made his hobby into his job.
After an MBA, Andreas started doing product management.
He also had a product that was a Morse code trainer. These were the topics of his first few videos on YouTube.
"Every engineer should go into sales" to learn about things like sales pressure and budgeting.
PhD in sales of investment goods.
Using tech used in manufacturing (SPC) but applied to sales.
First you had to find a process
ERP systems
Automation for buying parts
Rules are important for automation
"The most applied rule is 'it depends'. This requires trained people which is expensive."
Even AI is finding out the rules
"The most valuable world in the world is no"
ESP32, ESP8266
Rules based influenced on IoT interests
First computer was TRS80
James Bruton
Ben Krasnow's cookie machine
Ben Krasnow's video on laser traces.
Multiple Dimensions is a company that Andreas helped get started. They make 3D PCBs, shown in the video above.
Videos about antenna performance
Influence of battery life on antenna
Was first meant for PCBs and then later antennas were figured out
Sleepwalking an ESP32
Using both cores on the ESP32
Building a reggae robot.
AvE and This Old Tony
Fleet management
IoT App Story
OTA updates
Other things coming on the channel like BLE
Micro (circuit) python vs arduino
Will be doing a video with Damien George
Benchmarks of micropython
Check any of Andreas' videos for contact info. He's on FB and Twitter but mostly YouTube.
---